Sewing & Embroidery Resources
Brother Persona PRS100 Embroidery Machine
Available @ Bob Kirby 
Stitch designs on to shirts, towels, totes and other fabrics using this machine.
Only .pes, .phc and .dst embroidery data files can be used with this machine. The Idea Lab has BES 4 Dream Edition embroidery software for use in the makerspace. Create designs with this software using a lab computer then transfer the stitch file to the embroidery machine.
You may also bring stitch files that you have created or purchased on a USB flash drive. You can also create designs directly on the embroidery machine using the touchscreen display of the Persona.
This machine can embroider fabric that is up to 1 mm (1/16 inch) thick. It is recommended that rayon or polyester embroidery thread (120 den x 2 / 135 dtex x 2 / 40 weight) be used in this machine.
Stabilizer and topping are available for purchase, and a limited selection of thread is available for free in the Idea Lab.
We prefer you have previous experience with an embroidery machine or have taken a class in the past.

Create & Learn – Embroidery
Purchase Designs
Library Collection
Create & Learn – Sewing
Library Collection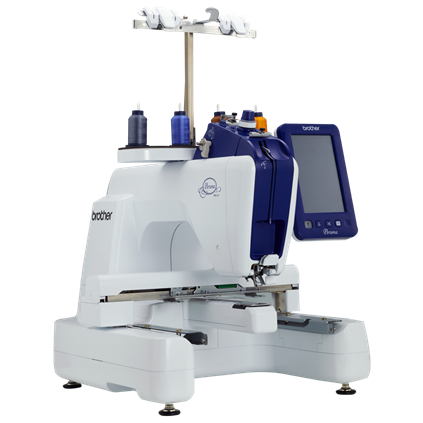 Pricing For Embroidery Machine @ Kirby
All embroidery projects must use stabilizer. Projects on high-pile fabrics (towels, fleece, etc) must use stabilizer and topping.
Tearaway stabilizer: $1.50 per square foot
Heat N Stay fusible stabilizer: $1.50 per square foot
Water soluble topping: $1.50 per square foot
Heat N Gone topping: $1.50 per square foot