Create
Create your design in any 3D drafting software and have it printed in the Idea Lab.
All designs must be submitted for printing via our online submission form below.
Any 3D drafting software may be used to create a design as long as the file can be saved in .stl or .obj file format.
We recommend Tinkercad or SketchUp Free which are free web-based programs. Tinkercad and SketchUp Free may be accessed from any computer with an internet connection.
Digital designs also are available from various file-sharing databases such as Thingiverse, MyMiniFactory, and Pinshape.
Browse the 621.988 call numbers in our adult and juvenile nonfiction areas, or search the catalog for three-dimensional printing.
The 3D printer has a build volume of 9.9″ x 7.8″ x 5.9″ [25.2 cm  x 19.9 cm x 15.0 H cm] and prints at a layer resolution of 100 microns. The extruder has a nozzle diameter of .4 mm.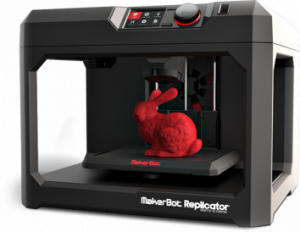 MakerBot PLA Filament Pricing
$.06 per gram of material used including rafts & supports
Submit
Before submitting, view the 3D Printing Policy on the Policies Page.
Use the form to submit your 3D file (in .stl or .obj file format). Staff will add the model to the printing queue.
The files will be readied for printing in MakerBot Print. A staff member will view all files in MakerBot Print or other authorized software before printing.
Files over 15 hrs will not be printed or will be scaled down per the 3D Printing Policy. (updated 7/21/20)
The Library has black, white, gray, blue, red, and yellow filament colors. If you have a color preference please state it when you submit your print file.
You will be contacted by the a staff member when your print is ready for pickup. It will be held for 7 days.
Thank you for your interest in 3D printing at the Warren County Public Library!